CPD10A CPD10B Narrow Aisle Forklift
MODEL:CPD10A CPD10B
Advantages
Advanced AC control system with MOSFET delivers smooth driving speed control for precise.
Small turning radius,easy and smart to operate.
Lean-on compartment offer comfortable and safe driving position,reducing operator's fatigue.
With regenerative braking system for driving and electronic braking system for parking.
Low battery Protection setting prolongs service life in reversing mode and reduce the brake pedal using and reduce operatot efforts.
With deadman switch on floor to cut off the power when operator leave the from cab.
Lifting cylinders on the both of mast provides best visibility.
The optional of full hydraulic steering system and electric power steering(EPS) offers follow advantages
Steering wheel automatic reset.
Travelling speed automatically slow down when steering.
Show the turning angles on the display.
Turning radius 1140mm,lower noise,no pollution.
Electromagnetic brake mechanism and frive power motor braking improves overall effciency and prolongs brake component life.
Advancef control system with MOSFET delivers smooth driving speed control for percise positioning of the truck.
Hydrostatic power steering provides quiet,effortless and responsive operation for precise manoeuverability.
With regenerative braking system for driving and electronic braking system for parking.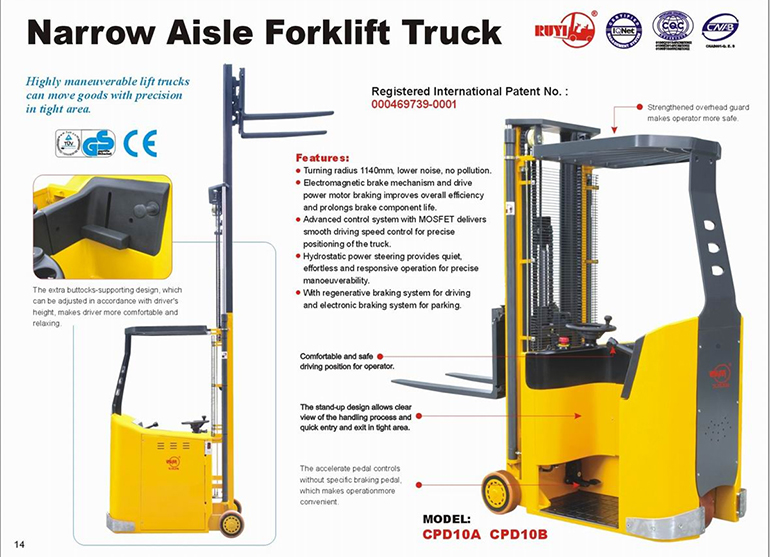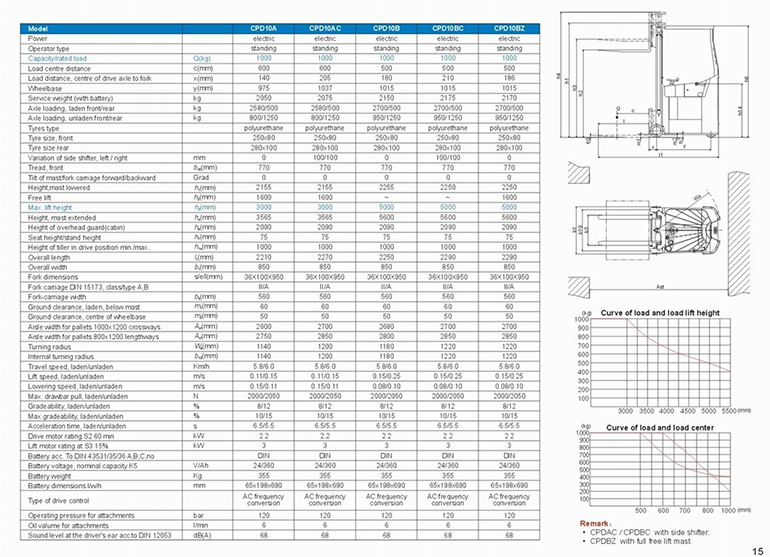 Specifications fo SINOLIFT CPD Narrow Aisle Forklift Truck
Model
 
CPD10A
CPD10B
Power
 
electric
Operator type
 
standing
Capacity/rated load
Q(kg)
1000
Load centre distance
c(mm)
600
500
Lift height
h3(mm)
3000
5000
Load distance, centre of drive axle to fork
x(mm)
140
180
Wheelbase
y(mm)
975
1015
Service weight(with battery)
kg
2050
2150
Axle loading, laden front/rear
kg
2580/500
2700/500
Axle loading, unladen front/rear
kg
800/1250
950/1250
Tyres type
 
polyurethane
Tyre size, front
 
250x80
Tyre size rear
 
280x100
Variation of side shifter, left/right
mm
0
0
Tread,front
b10(mm)
770
Tilt of mast/fork carriage forward/backward
Grad
0
Height,mast lowered
h1(mm)
2155
2255
Free lift
h2(mm)
1600
~
Height, mast extended
h4(mm)
3565
5600
Height of overhead guard(cabin)
h6(mm)
2090
Seat height/stand height
h7(mm)
75
Height of tiller in drive position min./max.
h14(mm)
1000
Overall length
l1(mm)
2210
2250
Overall width
b1(mm)
850
Fork dimensions
s/e/l(mm)
36/100/950
Fork carriage DIN 15173,class/type A,B
 
II/A
Fork-carriage width
b3(mm)
560
Ground clearance,laden,below mast
m1(mm)
60
Ground clearance,centre of wheelbase
m2(mm)
50
Aisle width for pallets 1000x1200 crossways
Ast(mm)
2600
2680
Aisle width for pallets 800x1200 lengthways
Ast(mm)
2750
2800
Turning radius
Wa(mm)
1140
1180
Internal turning radius
b13(mm)
1140
1180
Travel speed, laden/unladen
Km/h
5.8/6.0
Lift speed, laden/unladen
m/s
0.11/0.15
0.15/0.25
Lowering speed, laden/unladen
m/s
0.15/0.11
0.08/0.10
Max. drawbar pull, laden/unladen
N
2000/2050
Gradeability,laden/unladen
%
8/12
Max.gradeability,laden/unladen
%
10/15
Acceleration time,laden/unladen
s
6.5/5.5
Drive motor rating S2 60 min
kW
2.2
Lift motor rating at S3 15%
kW
3
Battery acc. To DIN 43531/35/36 A,B,C,no
 
DIN
Battery voltage,nominal capacity K5
V/Ah
24/360
Battery weight
Kg
355
Battery dimensions l/w/h
mm
610x278x690
Type of drive control
 
AC
Operating pressure for attachments
bar
120
Oil valume for attachments
l/min
6
Sound level at the driver's ear acc.to DIN 12053
dB(A)
68
Sinolift reserves the right to make any changes or modifications of pictures and specifications without giving previous notice and without incurring any obligation.