Forklift Spare Parts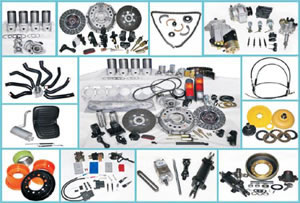 We can supply parts and accessories for virtually every make and model of lift truck, Our company emphasizes on high quality products and good service as well. With the best quality, high productivity, innovation and leading objective, we are on a highly dynamic and competitive status. Sincerity creates value; trustfulness wins future is our core vision. Sinolift Corp. extends all efforts and cooperation in business development to our customers all over the world.
Except supplying ourself SINOLIFT forklift parts. We also get involved in all kinds of Brand forklift with all kinds of parts, such as TOYOTA, MITSUBISHI, NISSAN, KOMATSU, ISUZU, TCM, DAEWOO, HYUNDAI, YALE, TAILIFT, YANMAR and so on.
Engine Model.
TOYOTA: 3P, 4P, 5K, 4Y, 2F, 3F, 1DZ, 5P, 5R, 2J, 1DZ, 1DZ-II, 1FZ, 1Z, 2Z, 2Z-II, 3Z, H, 2H, 2D, 11Z, 12Z, 13Z, 14Z, 15Z
MITSUBISHI: 4G15, 4G32, 4G33, 4G41, 4G52, 4G54, 4G63, 4G64, 4DR5, 4DQ5, 4DQ7, S4Q2, S4E, S4E2, S4S, 6DR5, S6S , S6E2, 6D15, 6D16, 6D22
KOMATSU: 4D95S, 4D95S-W, 4D95S-1, 4D95L, 4D92E, 4D94E, 4D94LE, 4D98E, 4D98LE, 6D95, 6D95L, 4D105, 6D102 , 6D105, 6D125
TCM: 4FA1, 4FE1, C190, C221, C240, 4BC2, 4LB1, 4JG2, 6BB1, 6BD1, 6BG1, DA220, DA120, DA640, D500, C330
NISSAN : D11, J15, J16, A12 , A15, Z24, H20, H21-II, H15, H25, K15, K21, K25, SD22, SD15, SD25, SD33, TD27, TD42, BD30, CD17, TB42, TB45, PD6
YANMAR: 4TNE88, 4TNE94, 4TNE94L, 4TNV94L
DAEWOO: DC24, GC24, D427, DB33A
HYUNDAI: AG44, AG45, D4BB
YALE: HA, XA, FE