Logistics Equipment parts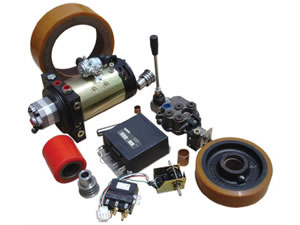 Moving parts in warehouse equipment are worn, and new parts must be available within a short time. SINOLIFT Distributors can either provide the necessary parts from own spare parts stock or from Sinolift head office or branch office, also the shops of SINOLIFT are situated in most of big cities. The spare parts may be purchased from these shops or may be delivered to the customer's address. All equipment needs service and the service intervals depending on hours of operation and of the environments in which it operate.
The parts mainly include:
* Grated manifold with check, adjustable relief and N.C release valve.
* High pressure, low noise gear pump with displacement from 0.6cc/rev to 4.5cc/rev.
* Metal tank: 10L-0.8L. AC or DC motor. Special designs are available upon request.
* Attractive ergonomic designed. durable, reliable and easy for operation. power coated steel frame, high impact plastic and foam padded handle.
* Complete with maintenance-free electric throttle, lift up, lift down, horn and emergency reverse switch.
* Electronically adjustable travel speeds